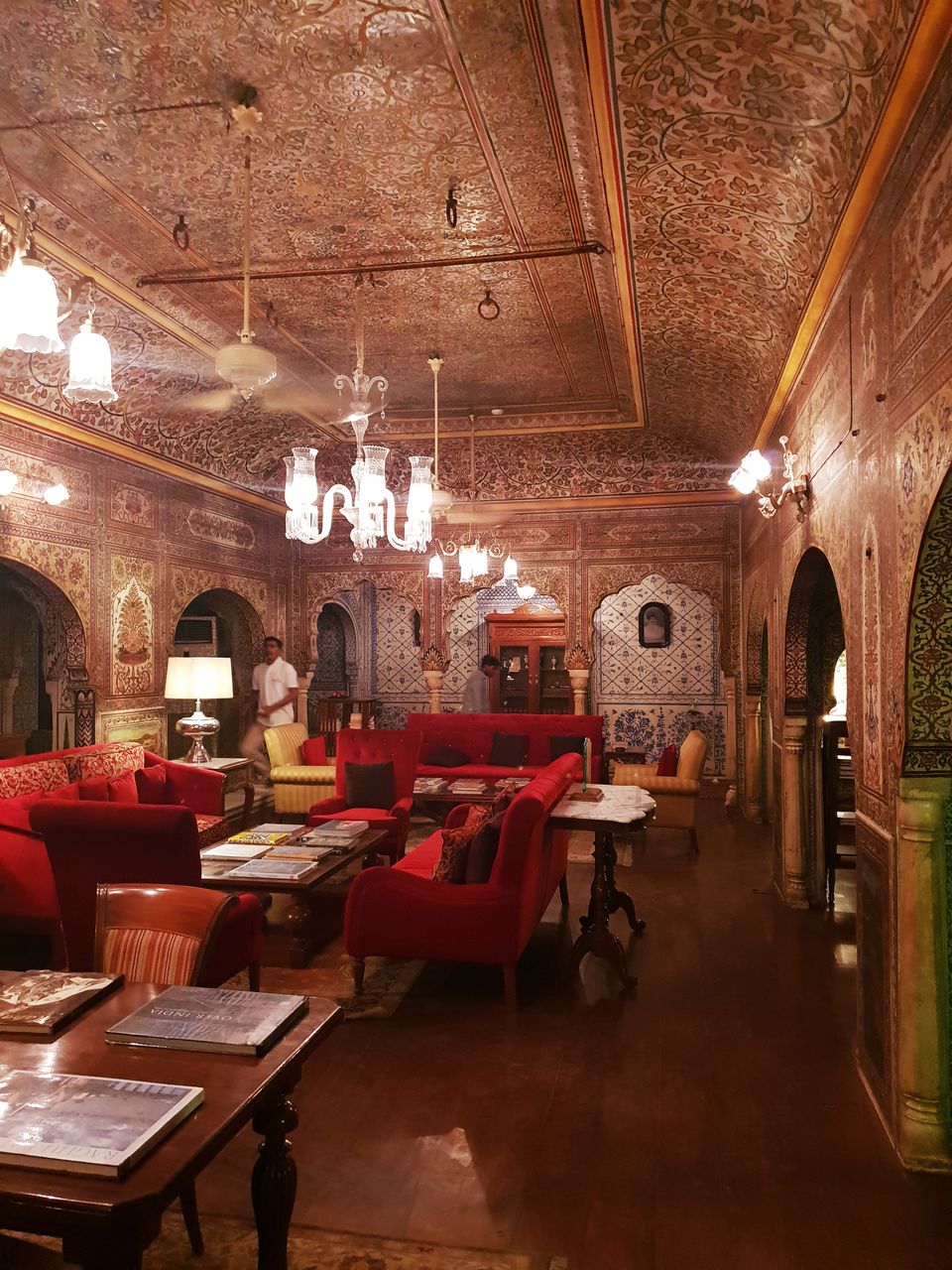 Destination: Samod Haveli
Delhi —-》Jaipur
Ideas: Staycaytion, Vacation or Dining
An year back I visited Jaipur on a work trip. It was my first time there. As soon as I entered the city, I could see why this city leaves a mark in the hearts of people ♥. The amalgamation of vintage architectures painted with the vibrant colors is delightful. From famous monuments and hotels to widespread main market are glit-edged.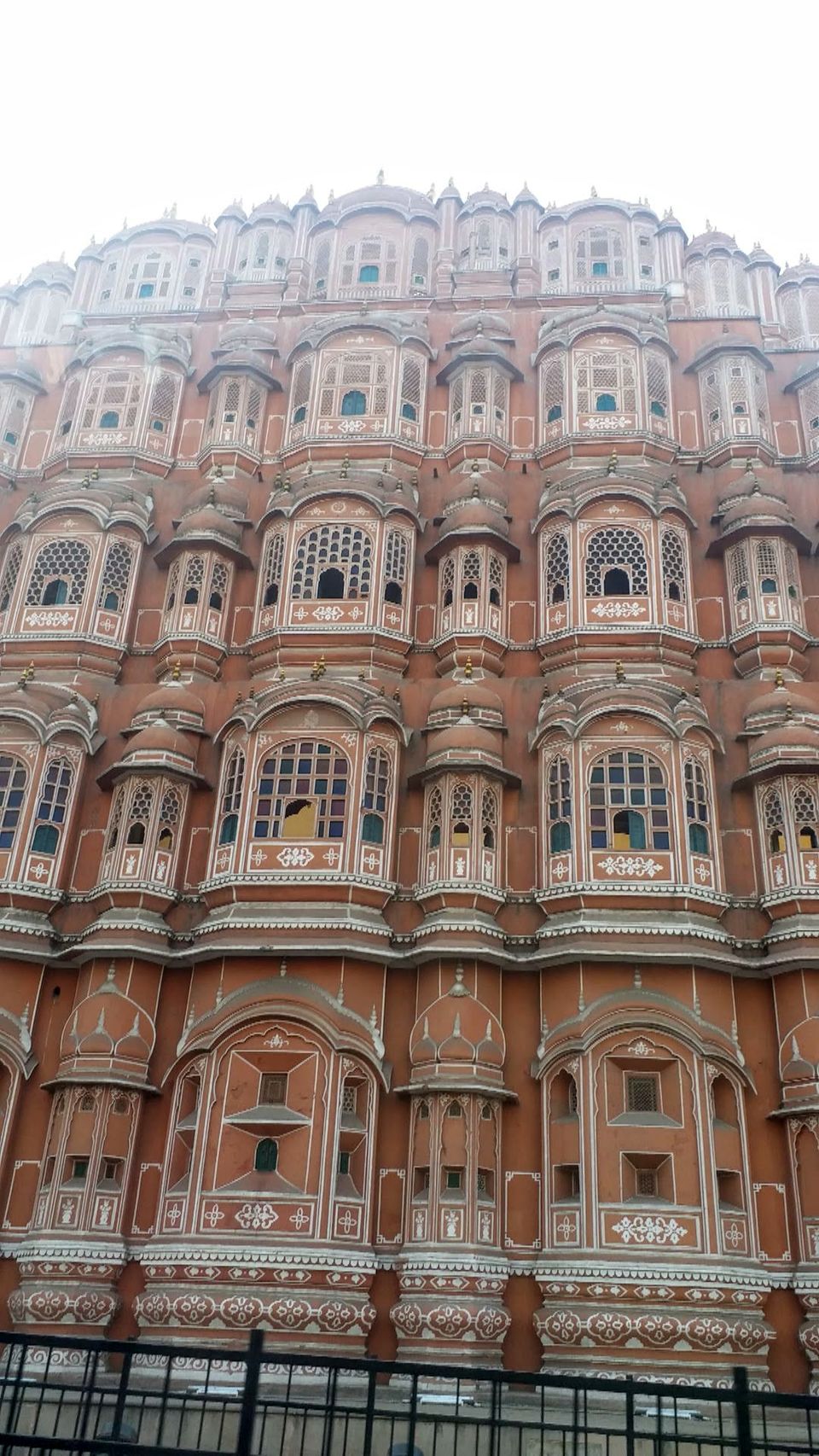 We checked in the hotel and rushed to the meetings. As the 5 hr drive from Delhi and back to back meetings with our prospects tired us down, we couldn't go for sight seeing. My hubby suggested that we could catch up with his school friend. We went to this Heritage hotel "Samode Haveli " for the decided meet.
Jaipur is filled with Heritage and Boutique Hotels. This article portrays my experience with one of them.
Through pink city's narrow lanes and hustle bustles, we arrived at the place. The streets to the hotel were old bylanes which just set me off and had me assuming that the haveli will be an old property with those dull lightings. Maybe it was my fatigue which made me think like that but I got flabbergasted the moment I entered the property. I loved the whole vibe it reflected.
After the main entrance, corridors and a small archaic gate, I was inside and was awestruck with the ambience. It has a square spread sit out, surrounded by greens, fountain in the middle and lights. There was this beautiful classical music playing in the background. We were meeting a friend Yugdeep Singh, who also happened to be the property manager. We were escorted to the terrace where he was waiting.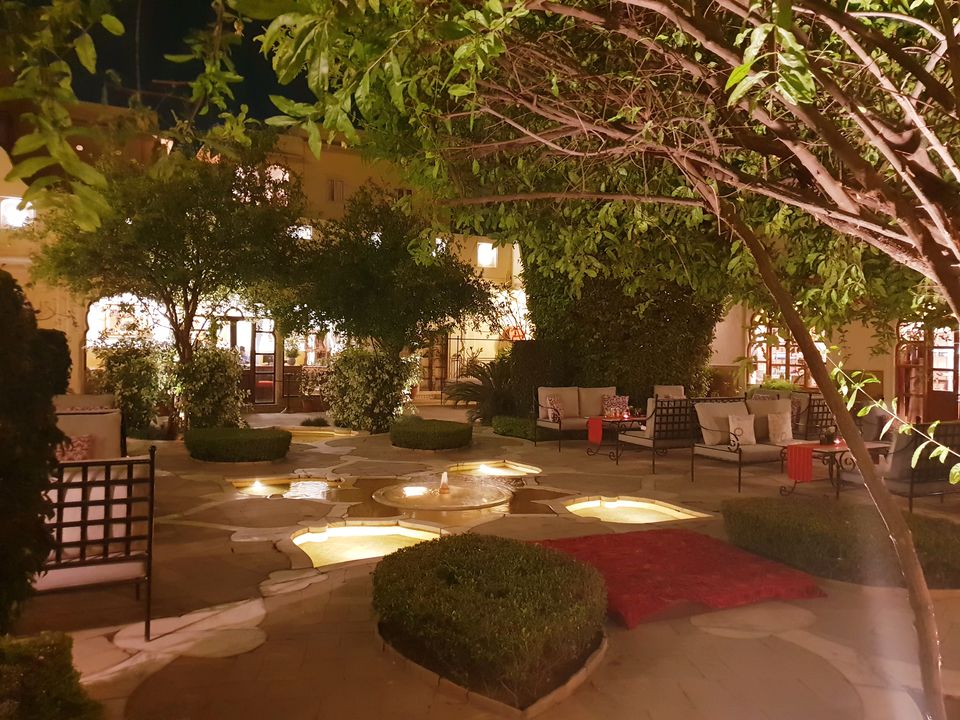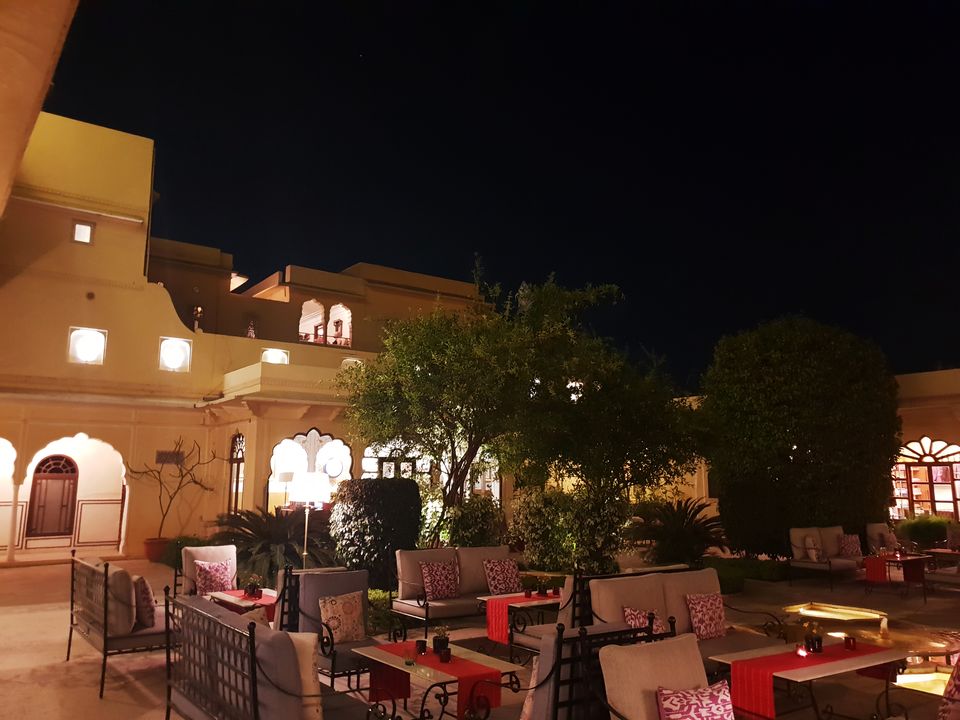 On our way to the terrace, I was trying to take glimpse of every corner of the halls and corridors. By the time we reached I was already in my enthusiastic mode but the terrace was equally stupendous.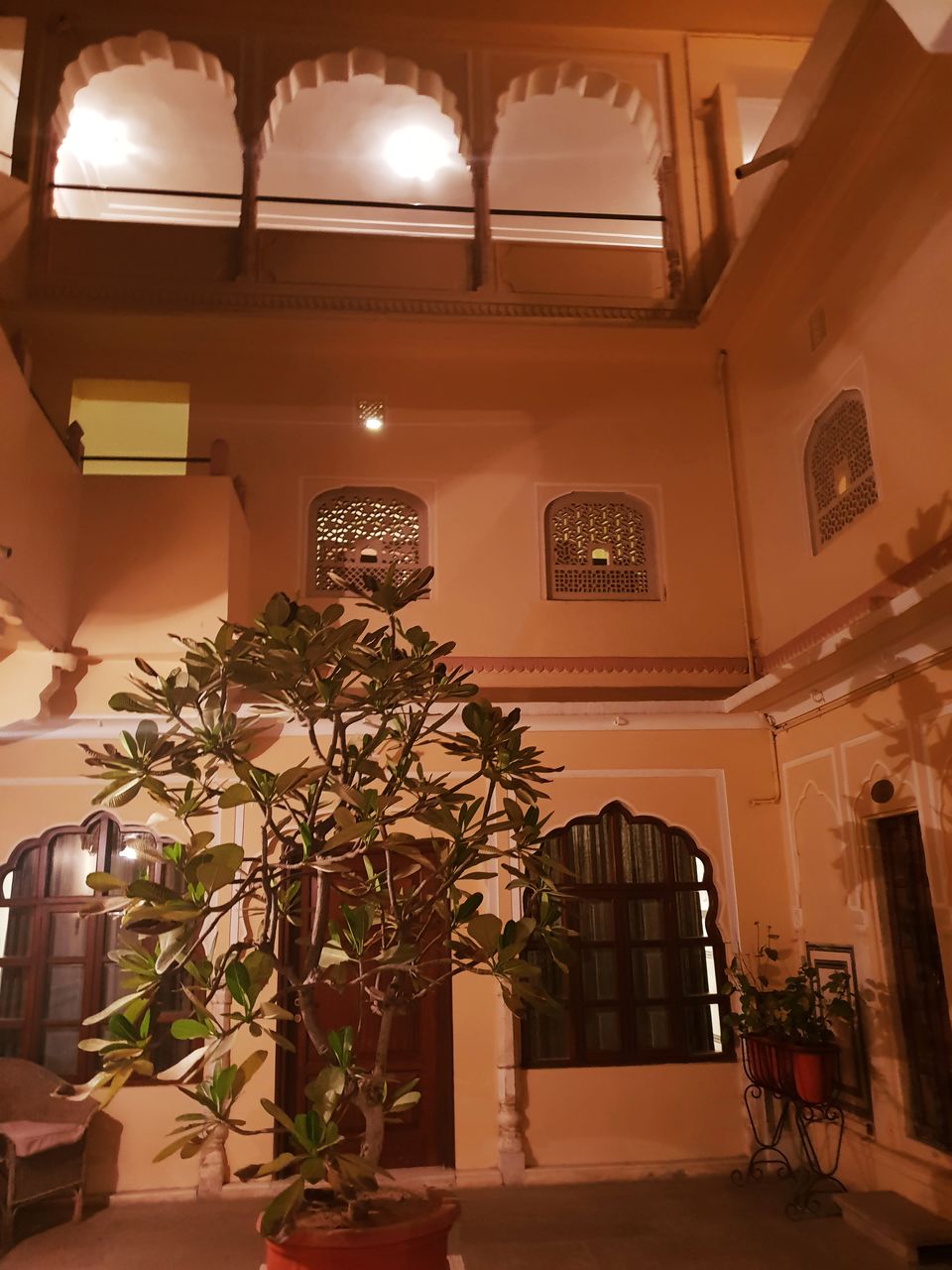 They had made it an open hi-tea / meeting area where one can enjoy cup of coffee or drinks while discussing work. It had such a beautiful panoramic view of the city. We hung there chatting for an hour.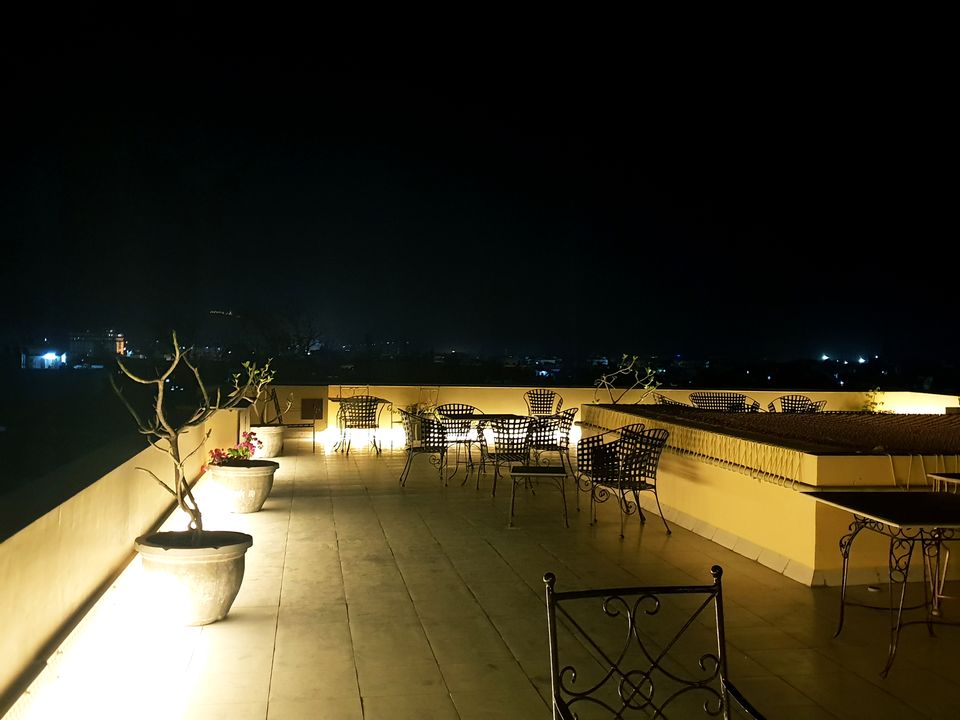 We headed towards the open dine area of the haveli. I kept glancing at every corner so that I do not miss anything about this heritage. We passed swimming pool area which was also connected with other rooms of the hotel. All the rooms are traditional which showcase the richness Indian culture and Samode family.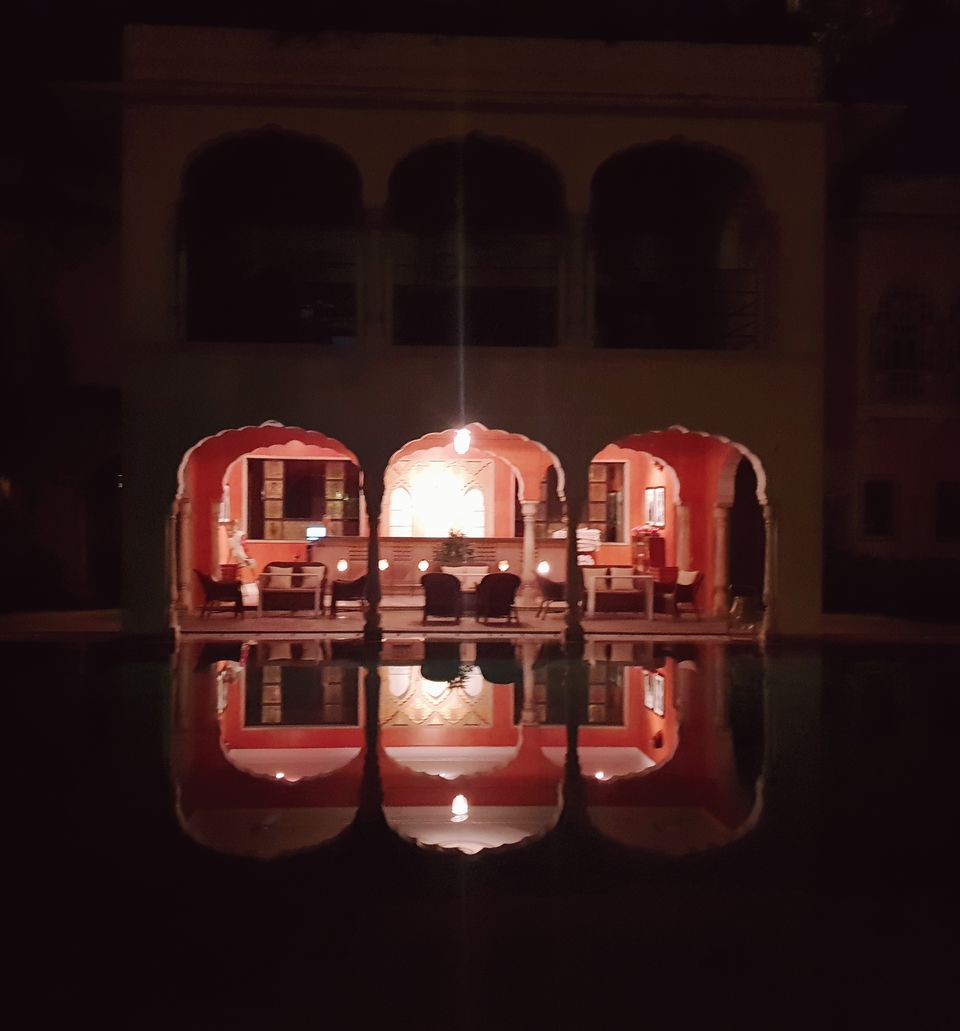 As we passed by the main garden, I could see table placed under big trees, string lights hanging around and candles lit on the table. We sat and ordered the signature dishes of the restaurant and enjoyed every bit of it. Indeed the taste of every dish I ate was exquisite. The foodie in me couldn't ask for a more perfect evening than this. We ordered soups and chicken kebab and in main course we had butter chicken and Laal maas. I am sure many would have heard about famous laal maas dish of authentic Jaipuri cuisine. I had it for the first time and I loved it. While we were filling our tummy, I could hear soothing live sitar music being played in the background, which added to the already magical ambience and of dining.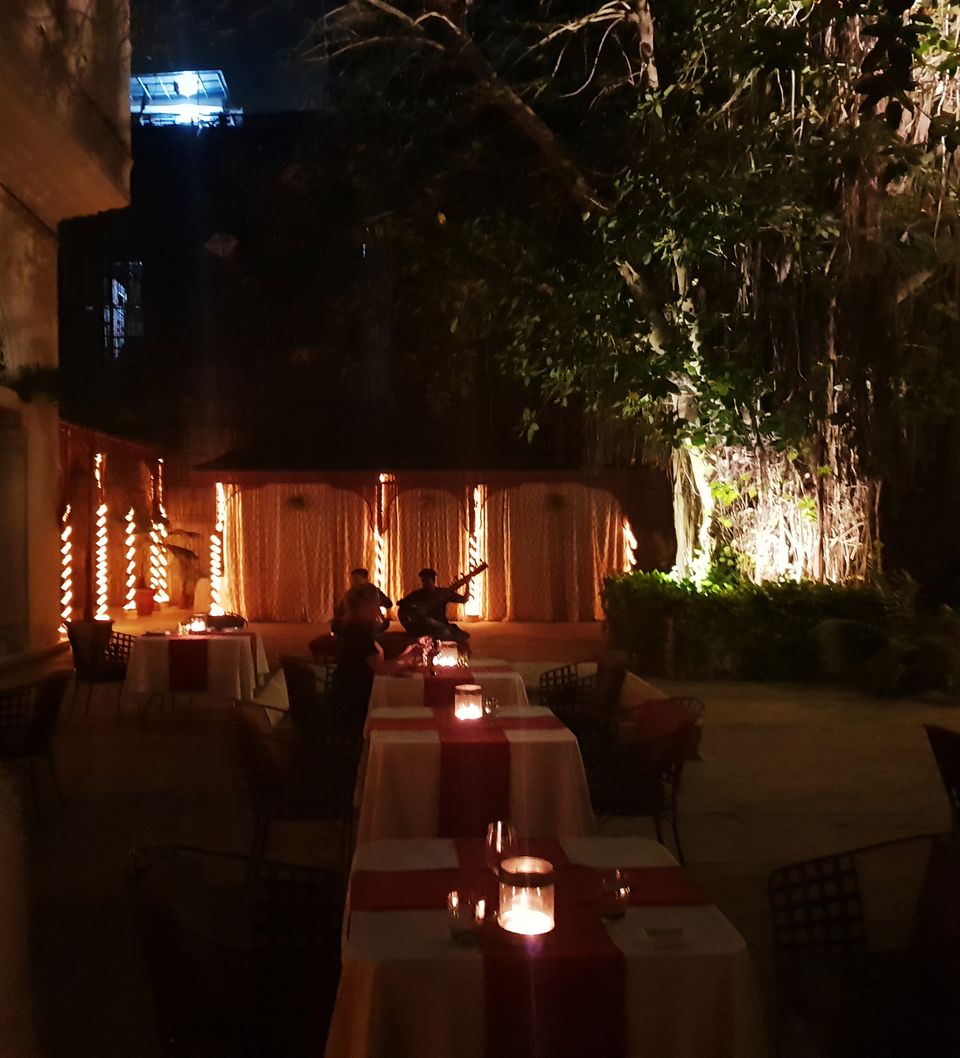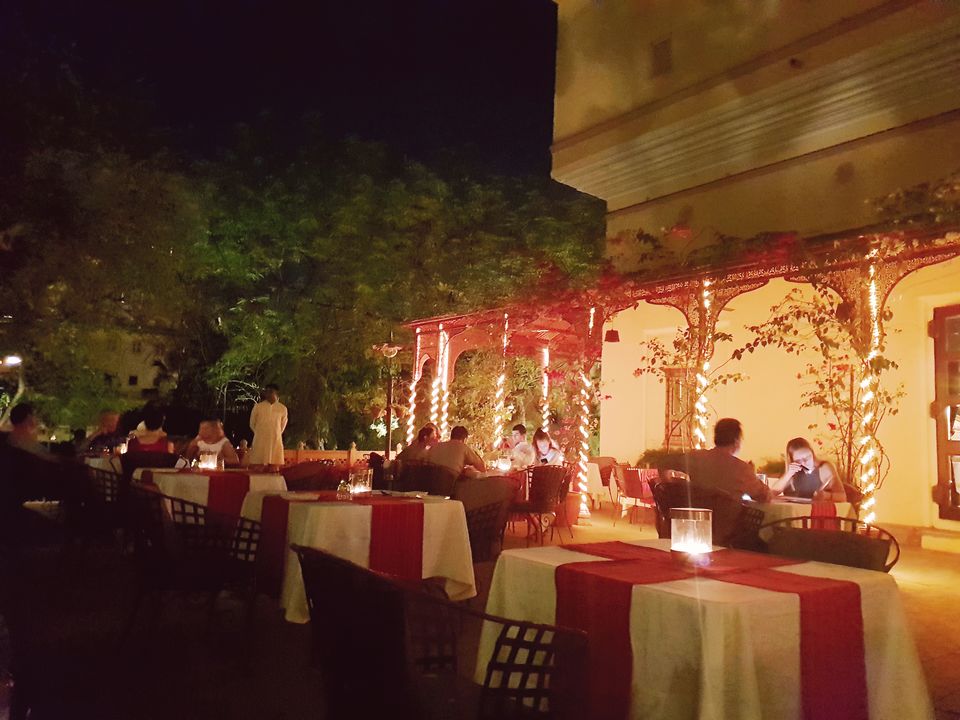 While waiting for dessert, we explored the inside of the restaurant. It was huge and full of Indian art – Gonda paintings and contemporary photographs. Apart from the interior dining area, there was a special zone, a huge one for romantic setting for two. This restaurant also has a wine cellar filled with old and exquisite wines from all around the globe. We got back to enjoy the surprising dessert. It was chef's special natural jaggery ice-cream , Just Yum!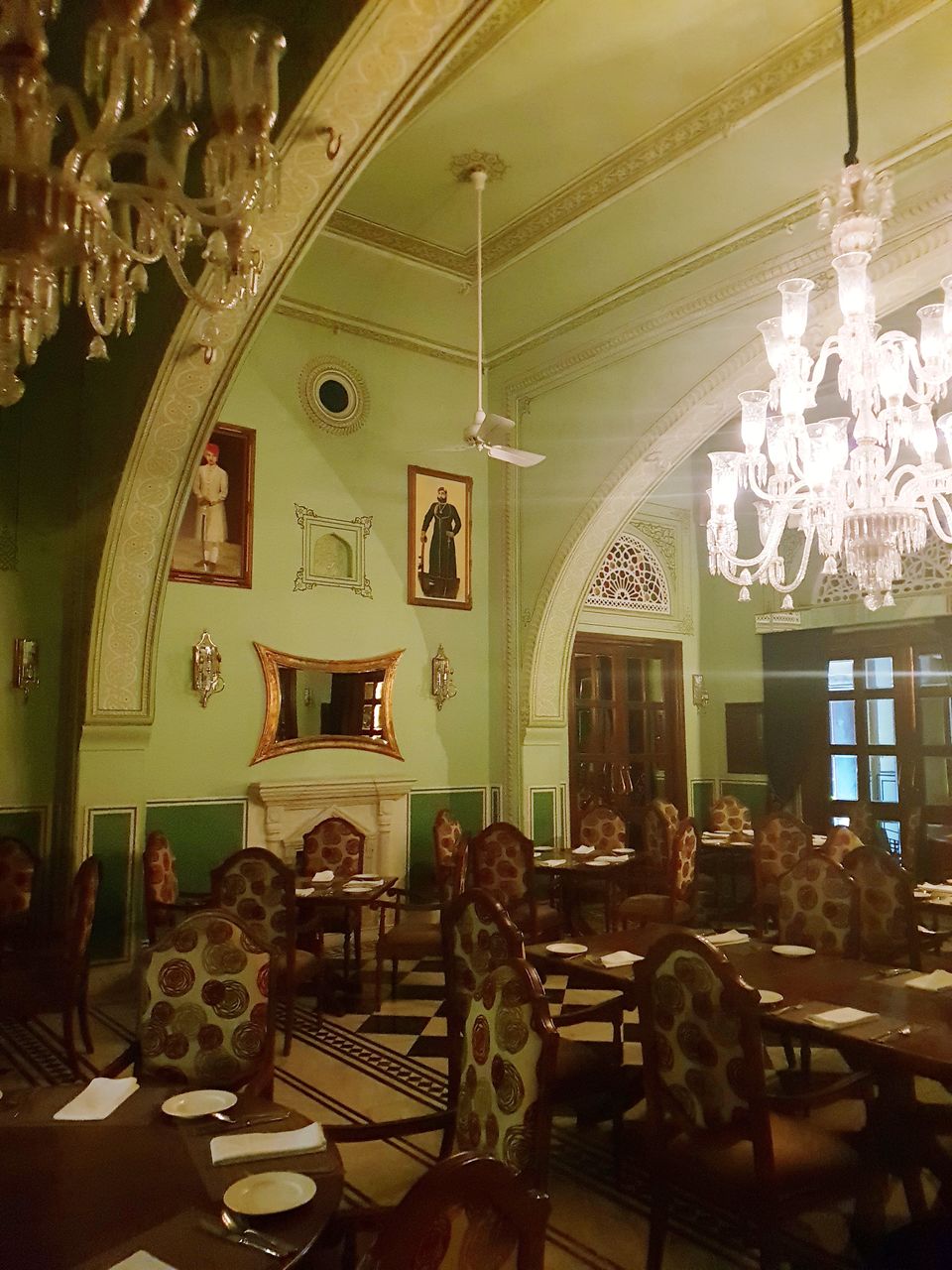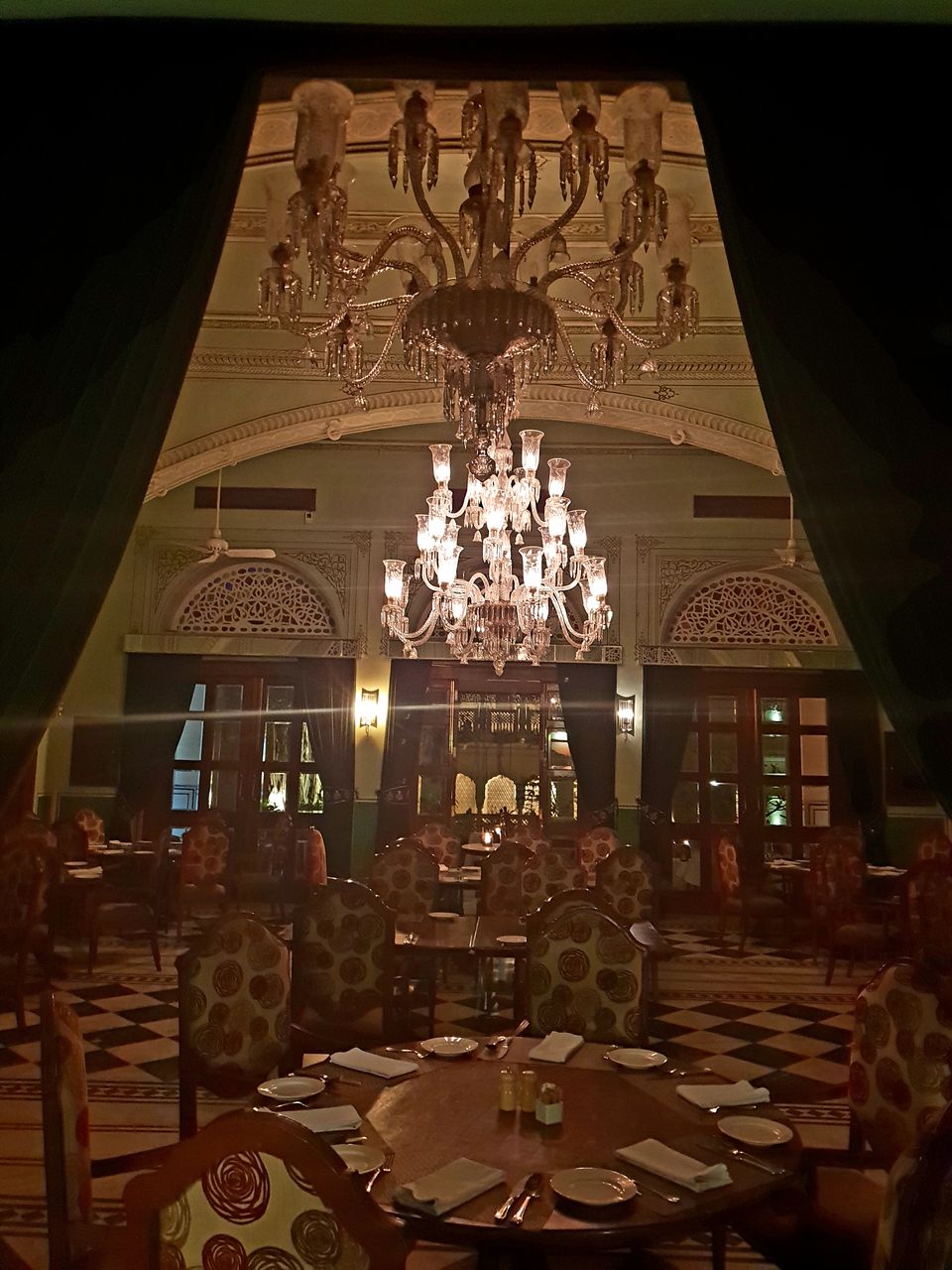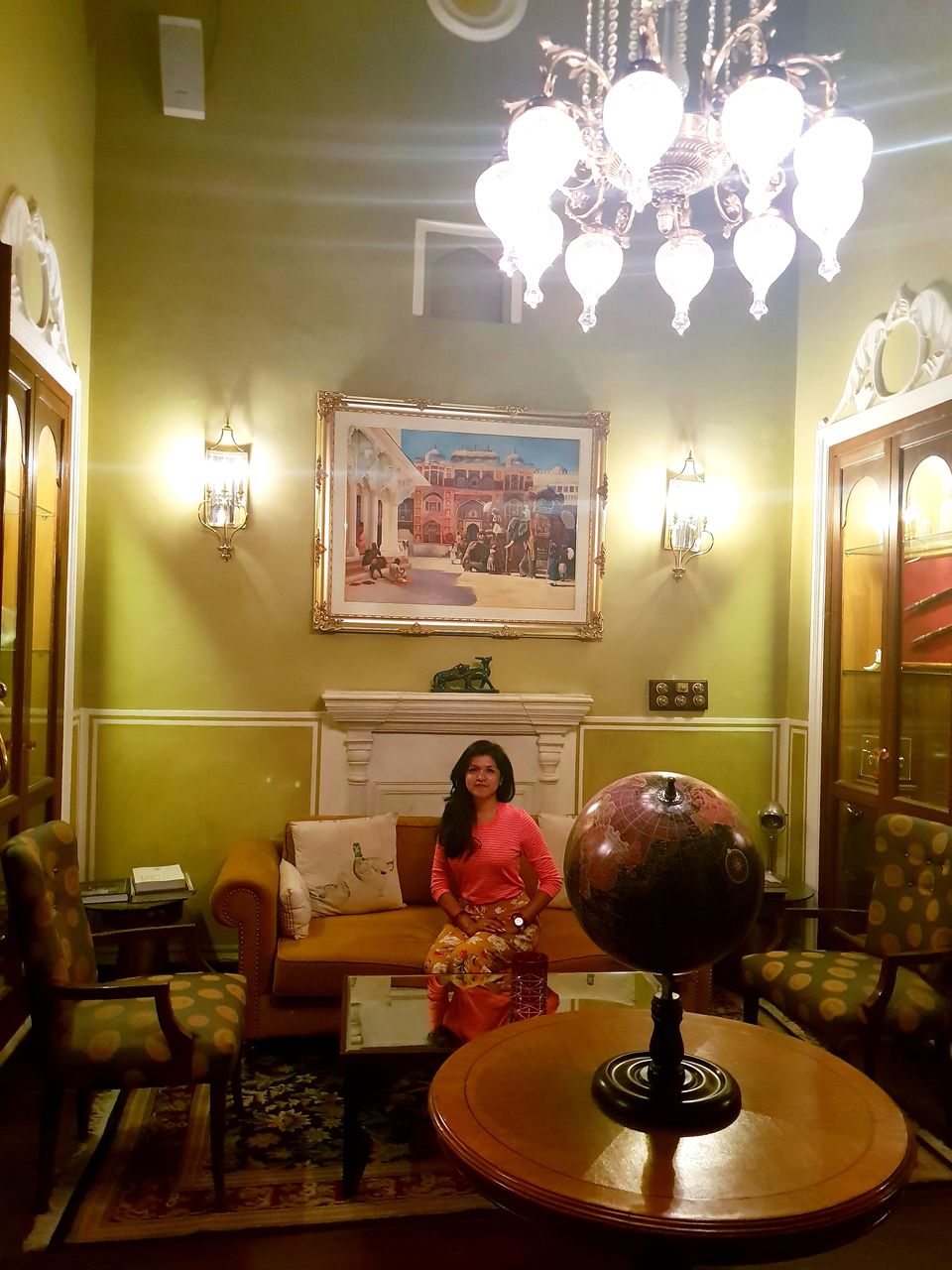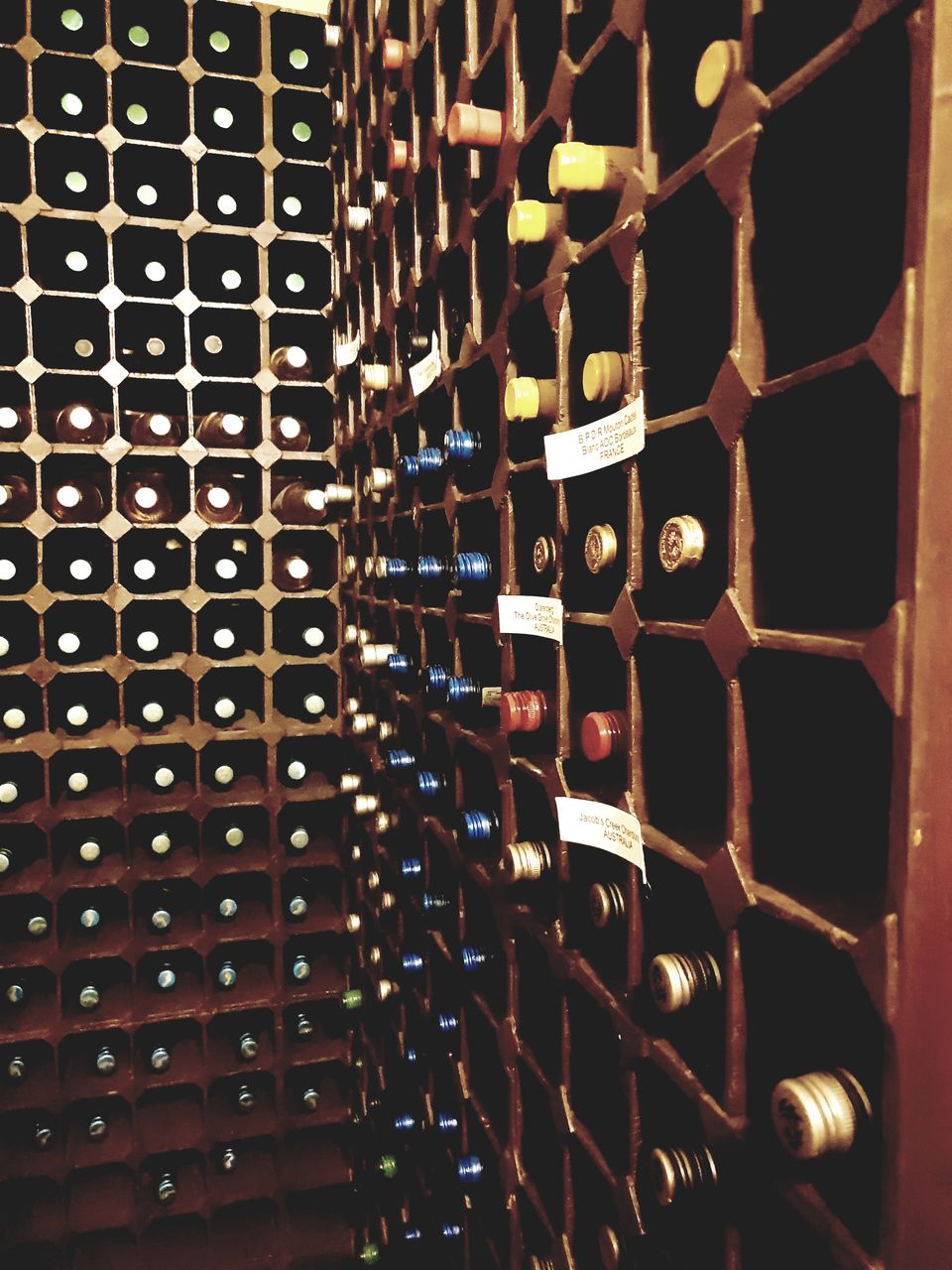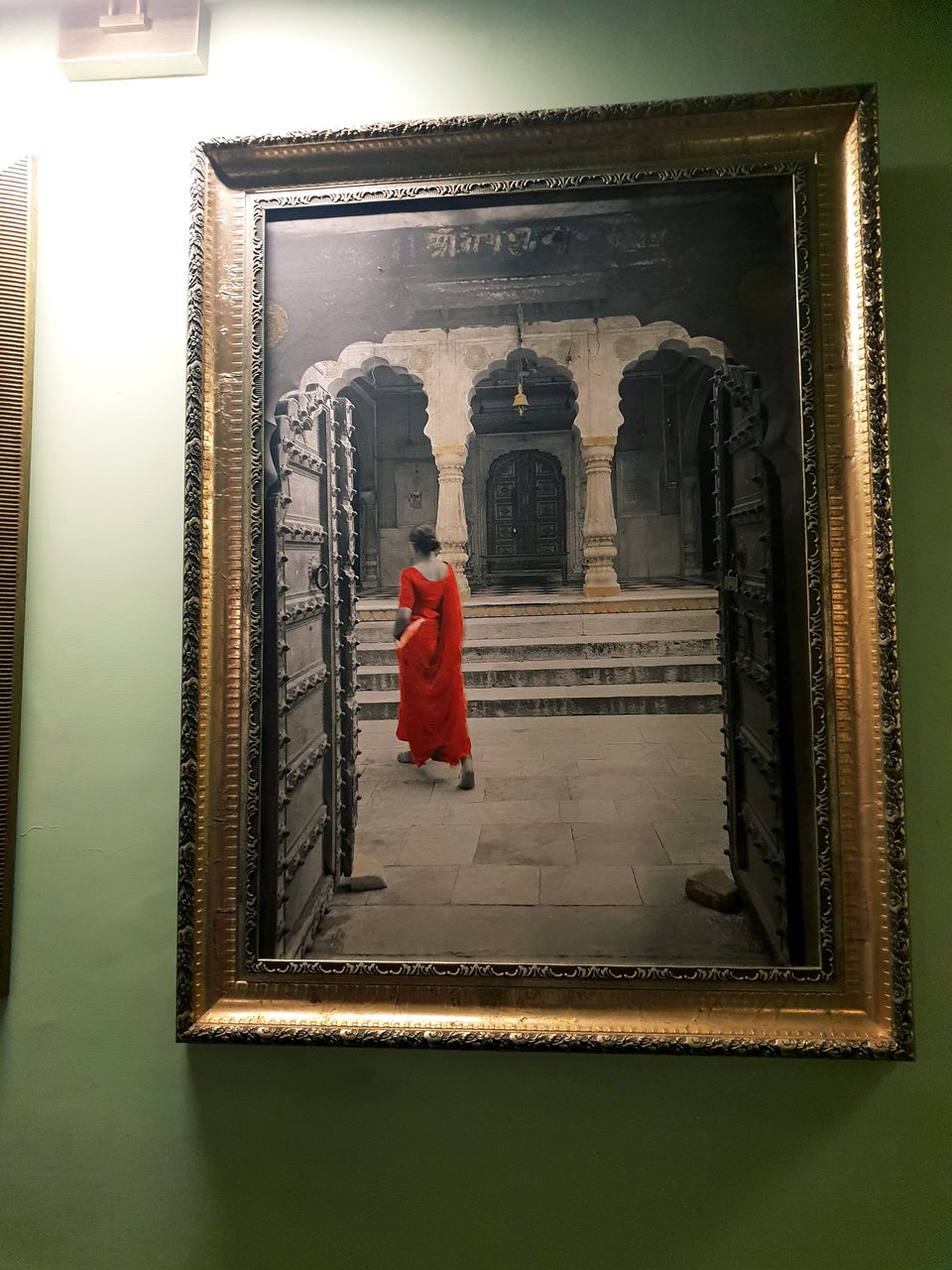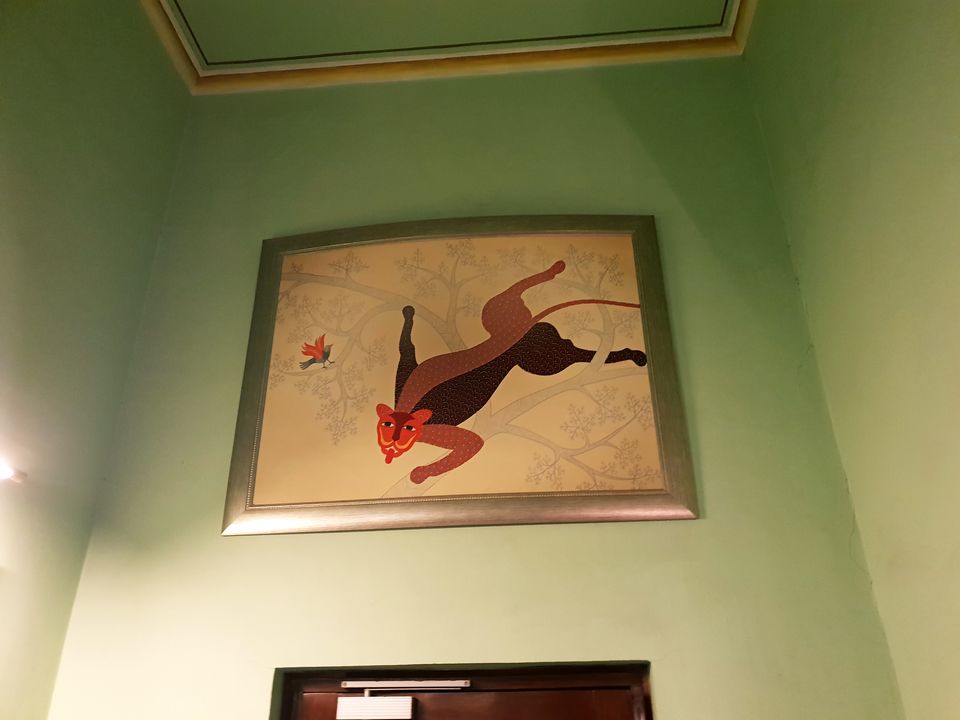 With bundle of conversations and full tummy it was our time to get back to our hotel. But before leaving our friend showed us one more archaic and stunning room of the haveli which was basically a meeting hall of the royals. I wanted to sit and read there but I was out of time so I soaked in all the beauty of this corner in my memory and bid adieu.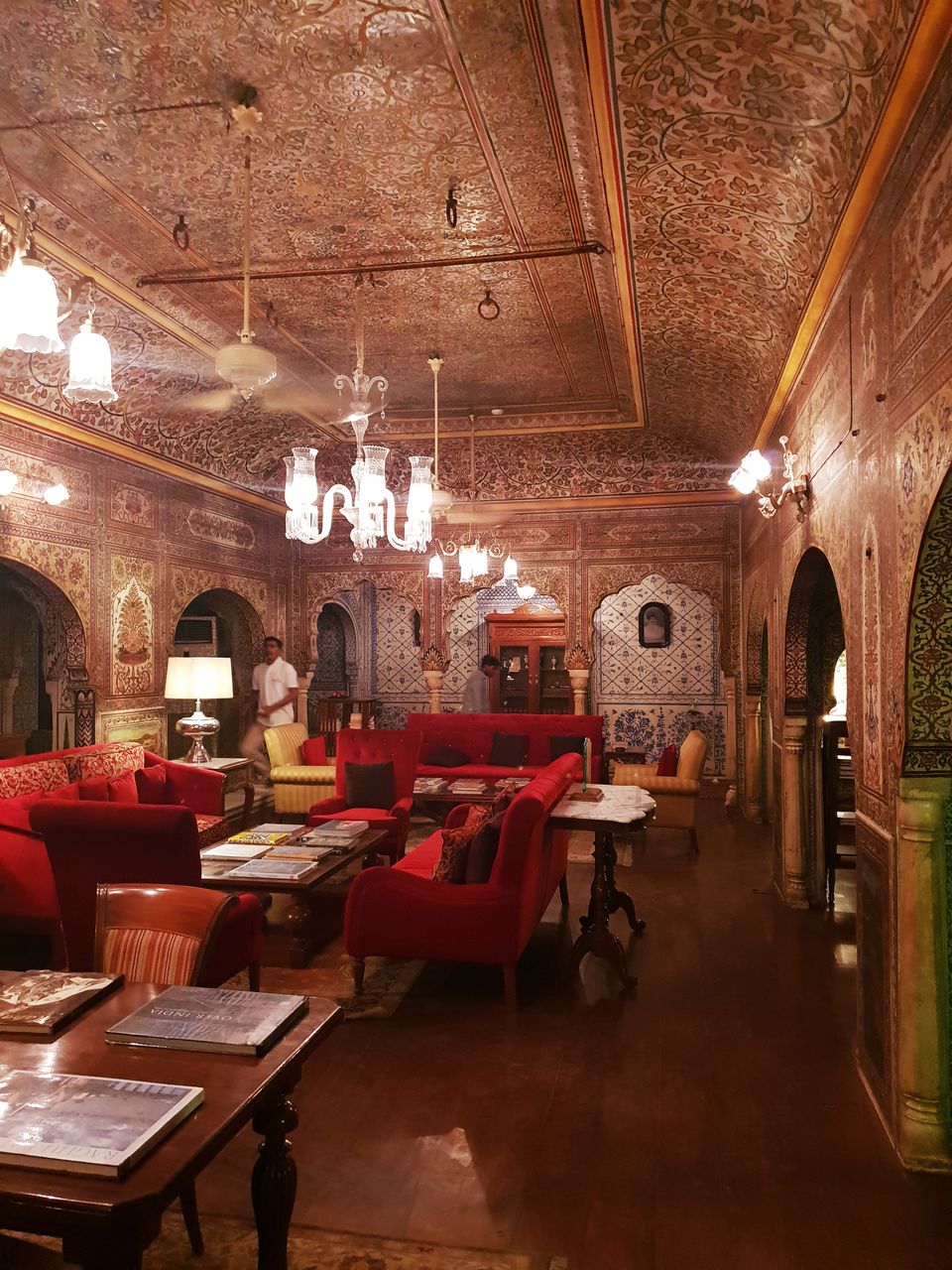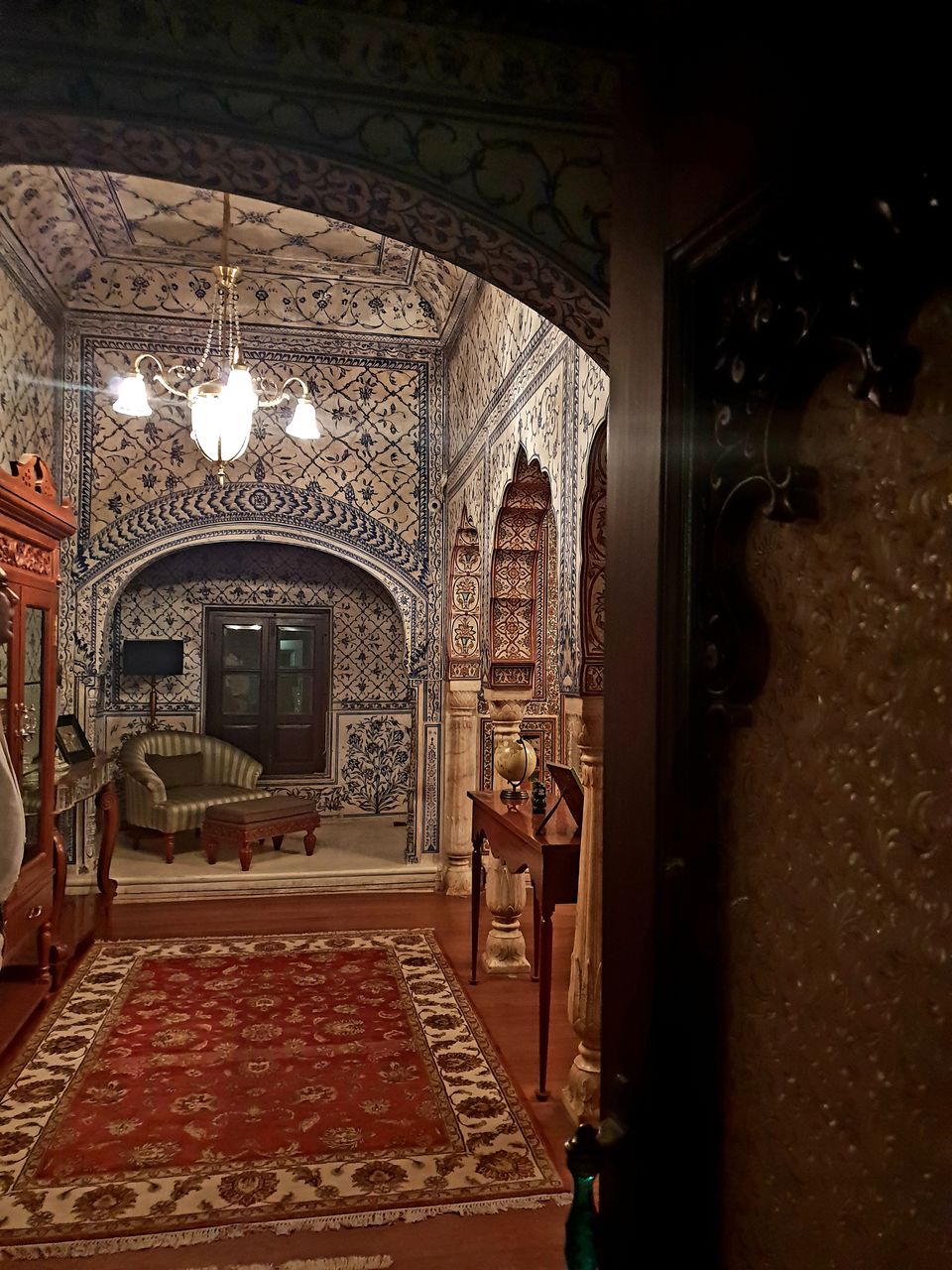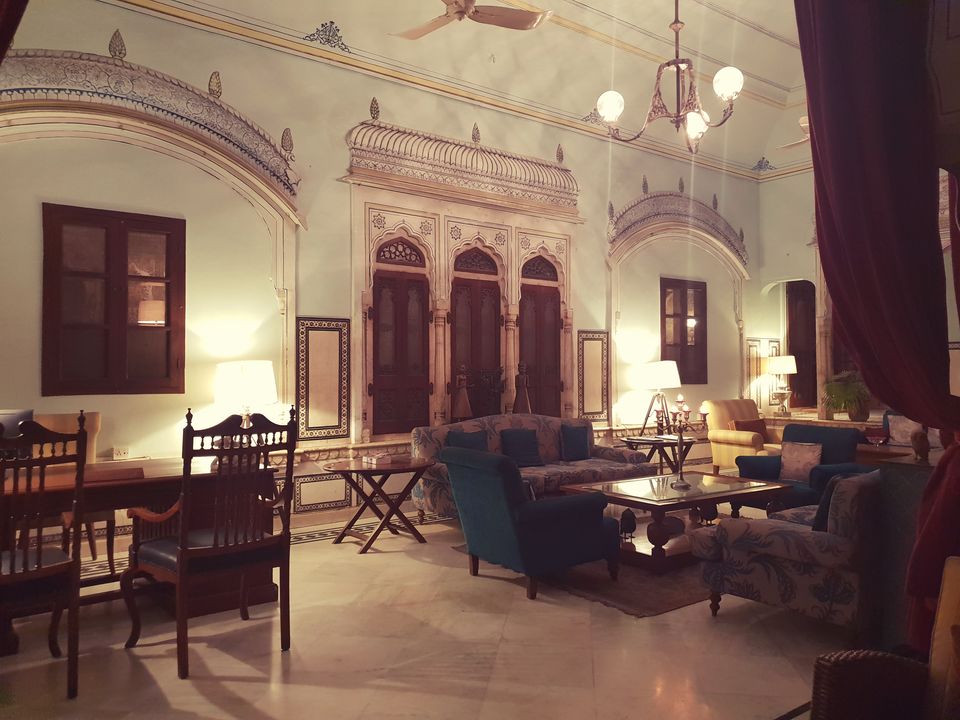 For more details click here
Samode Haveli was built 175 years ago. It was the residence of Samode King and now it is with the descendants who have converted it to a Heritage hotel. You would love this whole traditional yet cozy stay for your next vacation.
Accommodation: 8k to 18k (depending on what room you choose)
I hope you like this article as much as I liked writing about my experience of it.
Thanks for reading and kindly share your views 🥰